We operate with factcool in these countries:

How the cooperation started
After hearing about the essence of our algorithm, Magic Margin and Magic Linear attribution model, we set the rules of cooperation, KPIs and reporting system. With all of that in place, it was time to set up the algorithm and start managing bidding of FactCool's campaigns.
Right from the beginning, we (and FactCool) started to see positive results in revenue as well as in margin. Besides these results, we brought another added value to our partners – professional consultancy for their account. We brought years of experience with managing dozens of different accounts across whole Europe, which FactCool used to their advantage.
Our consultancy resulted in a totally different look on Google Ads management. The most important metric to watch became margin and profit efficiency. These two metrics replaced the former ones, that majority of e-shops use – revenue and cost of sales. We informed you about risks of revenue focused PPC management in the previous article.
This change of perception resulted in a very positive effect – better margin. Let's look at the results of our cooperation with specific data.
Optimization of our processes for FactCool
Apart from classic bidding automation with MagicScript algorithm, using also Magic Attribution (cross channel attribution model) and Magic Margin feature, we set up customized processes specifically for cooperation with FactCool. These processes helped manage FactCool's account, but also evolved our algorithms.
One of the processes mentioned above is distribution of product life cycle to different parts and probability of success (a purchase) attribution to all of them. The whole margin is added just after the product is delivered to the customer. In this way we try to eliminate the effect of future cancellations and returns to the algorithm calculations.
Later, we started to also include shipping and logistics costs to the orders. Thanks to this data, the calculations of our machine learning algorithm use much more accurate data, with greater focus on net profit.
Results of the cooperation
Revenue +37,4%
Margin 37,26%
Gross profit +16,36% (minus ads costs and margin fee costs)
Conversions (whole account) +45,40%
Google CPC assisted conversion +53,26%
Conversion value (whole account) +45,53%
Google CPC assisted conversion value 58,68%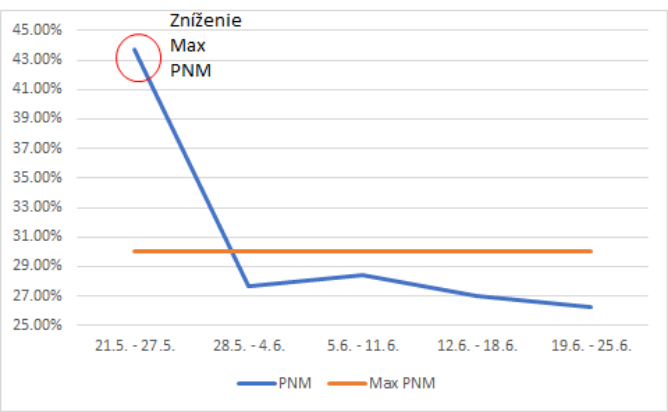 Reports used in cooperation
Due to the fact that the margin was not assigned to orders immediately at the time of the order, but gradually, depending on what part of the life cycle the product was in, the margin gradually increased. Based on this change, we were able to calculate whether the estimates of the probability of order execution, which one week after its creation are correct. For this we used such a comparison where we monitored the development of one week for 2 months.
And, of course, data studio is an integral part of our work, which was created exactly according to the assignment and requirements of Factcool. For example, we present 2 slides.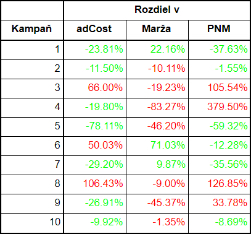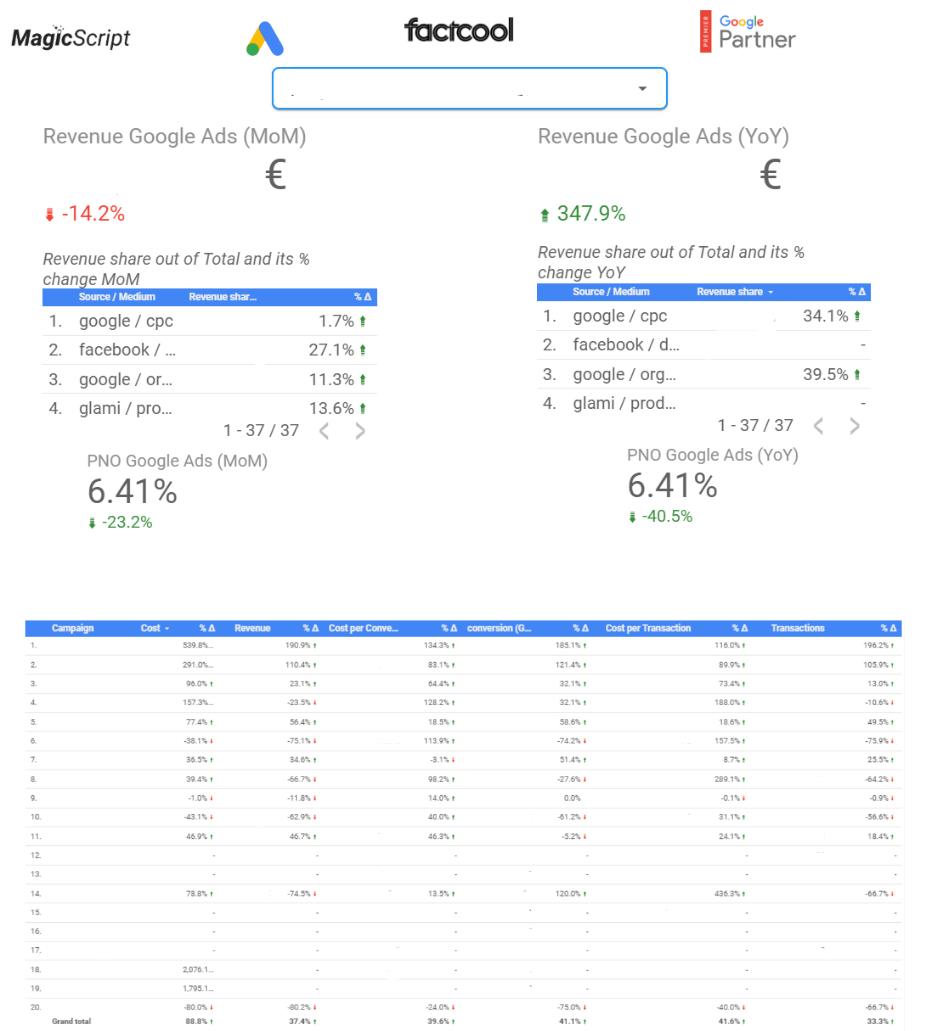 And what does the client himself, Factcool, say about these results and cooperation?
I consider working with MagicScript to be very effective and fruitful. I especially appreciate the proactive and highly professional approach of MagicScript. I consider regular reporting in the required quality to be positive. A great benefit for us is also a change in the angle of view of data measurement. And last but not least, the results achieved speak mainly of cooperation.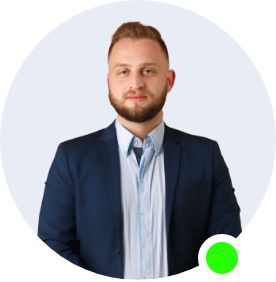 Consultant for online marketing automation