Last month, a Google Agency Day 2017 took place in the beautiful surroundings of Prague Castle. Our CEO Pavol Adamčák was given the opportunity to present the success story of his ui42 Digital (new Dexfinity)  as the only speaker from cz / sk agencies. Among other cool agencies from around the world, such as Jellyfish and Finch, he explained how ui42 Digital managed to grow 5x faster year-on-year by focusing on their clients' exporting efforts. I am very interested in his view of online marketing, so I made an interview with Paul, which you can enjoy now.
I drew a lot of inspiration during it. You will learn a little about me at the end of the article, but now enjoy the conversation and lots of ideas.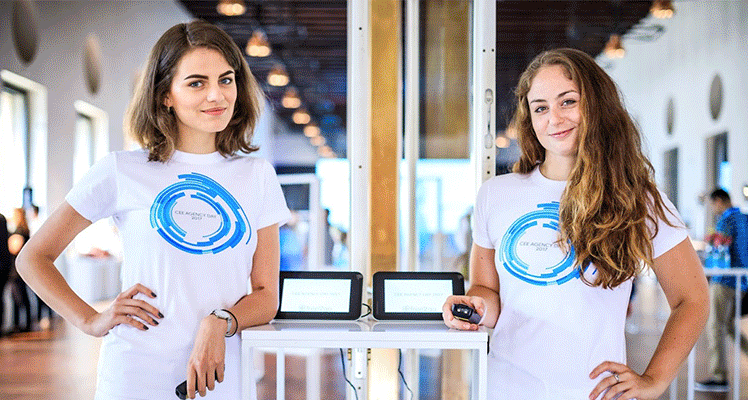 Pali, you were given the opportunity to present yourself as the only speaker from Czech and Slovak agencies at Agency Day 2017. How did it feel when they offered you this?
So, the first feeling was such a "WOW". I was very pleased because I have been a part of Agency Day since the beginning. It has been 5 years
since it started in Warsaw, continued in Budapest, another year was in Prague and last year in Athens, it was TOP. And this year again in Prague at Prague Castle. So, I've always seen it from the perspective of being a guest, but when I got the chance to be a speaker, I was excited of course. I knew there would always be people from the biggest agencies, or those who had something to say, so I was very enthusiastic. The second feeling, since this is not the first time I have been speaking, was that again a big audience and a lot of stress await me before the show.
"It makes you feel pleased, when being part of Agency Day since the beginning. It's been 5 years already."
Was this event somehow different? For example, when compared to the Marketing Festival, where you spoke last year?
So I was at Marketing Festival twice and it's a bit different but also similar at the same time. Basically, I presented a case study at the Marketing Festival and it was similar in that I had to concentrate the highest quality content within 10 minutes. I had 15 minutes on Agency Day and comparable amount of content. Stress was similar, the audience relatively quite demanding. The marketing festival is also popular among marketing specialists, it attracts mostly pretty clever people from top agencies. They are either their founders or at leading positions. On Agency Day, the speaker is mostly the person who has built the company and worked on it for years and really knows what he's talking about. Very rarely it is just some manager who runs certain specific things in the enterprise, mostly they are people who are really experts. The audience was therefore challenging in both cases. I lectured at Agency Day for approximately 600 people and at the Marketing Festival for up to 1,500 people. But whether it's 600 or 1,500 people, it doesn't reduce stress.
And what did you present about?
You don't know what I was presenting about? They asked me to speak about how we can grow so fast and how to make such a grow sustainable. It was such a challenge for me to think about what's the reason we are doing so well. Basically, this was a question from Google's perspective, as we are one of the premium partners and grow with them 200% year-over-year. That's five times faster than the average, so when they saw the numbers, the idea came up that they should take a closer look. They know us and know that we are focused on export, on e-commerce, that we are rapidly adapting marketing technologies. They reckoned there was a great potential to motivate others a bit, so after one meeting with Juraj Felix from Google, we created framework for presentation where we showed the numbers. And we had content too, whether we talked about the technologies we use, or about how we approach people, the team, how we focus on a certain type of client that is e-commerce export-oriented and so on. The whole lecture was about facilitating the essence of what we are special in and giving some tips.
So what are the tips or a recipe for growth and success?
I had 3 specific tips in the presentation. The first focus is on people. Trying to find great people and try to find their strengths and focus them well. So not only finding the talented, but also focus on leading and teaching them. I also lectured about a specific system we have, a system that is not  focused primarily on hours, but rather on how much you want to earn for a given task or project. For example, you can make 5 Facebook posts, let's say each post for 20 Euros, and you don't have to be stressed about time tracking. You will deliver 5 things for a certain amount of money.
That's the model I try to popularise among my colleagues. The model that talks about giving people mathematics to be a separate business unit that doesn't have to work for hours, but can rather work as a specific  input / output unit. That's the essence I tried to find. When people are motivated this way, they themselves consider how to improve the output of the unit. For example, Adwords specialist is considering how to efficiently deliver results, turnover, and hence he is being evaluated. If he only tracks time, his motivation to deliver results is lower and his primary focus is to record working hours.
In our model, the motivation is this: delivering quality results and spending as little hours delivering them as possible.This is one of the unique things I have realized, that few people are motivating their colleagues to get results. Most deal with it by a fixed reward. So one focus was on talented people, and on giving them a simple math to develop themselves, so they think about results and improvement of their skills, and not about time tracking.
I understand, I am also a fan of f this motivation. And what was the next tip?
There were 2 more tips. The first was to encourage people to play with technology. Because people are rewarded for results, it often connects with technology, because when you want to optimize your time and spend as little time as possible, using technology will save you that time. For example, you can use a tool to make it easier for you to manage your PPC campaigns, use another tool to make it easier for you to manage Facebook and edit graphics. You see, suddenly you're wondering what technology to use to do something more efficiently, and that has not only benefits for you, but for the entire company. The company is then not based on invoicing hours, but rather on being able to be more efficient than the competition, because people find new technology, literally new toys that they both enjoy and use to improve their work and cut their time.
Thanks to them you can do things better than everyone else, because technology will give you tools and means to do it so.
It's like cutting trees with a hand saw and suddenly someone comes with a chainsaw. They paid a handsaw lumberjack by an hour so he just worked for hours. But when they switched to pay him by how many trees he cuts down, he purchased a chainsaw himself.  You need to look for those lumberjacks realizing they need to look for  chainsaws all the time.
Do you understand the logic from the lumberjack to marketing?  It is important to educate talented people in this way and to help them with those technologies. That's how Magic Script Algorithmfor automated real time bidding in AdWords was developed.  It was created because we needed to optimize projects based on their performance. Pay by the hours on such a level wasn't possible, as somebody would permanently be needed to adjust the bids for clicks, 24/7, and that's something nobody can pay, and frankly speaking, nobody can work as well. Cause people need their sleep and weekend and holiday too. Algorithms don't.
Sure, I also find new tools to avoid spending a lot of time on trivial things. And the third tip was what?
Furthermore, in the presentation I moved to the third pillar, which is the focus – meaning pick for whom to work. It's not just about the results. It is necessary to work with good people, but also for good people (customers). Those great clients probably do great things as well. We also need to grow together. We need to grow with people who intend to build something. That growth means export, all of which is underlined in our e-commerce export vision, a growth acceleration vision. It's not just rolled out of our sleeves, it's years of such awareness. And when you're working for a client who doesn't want to grow and doesn't respond to our call for growth, don't even expect you to build something great on it. Of course, we also have such clients, we must say goodbye to. But when you find such a person, who has the vision, who has the plan and wants to grow, it's very important to focus on him, to give him attention.  It's not just about focusing on exports, but explicitly on people who are basically good partners, trust, treat, honest, and so on.
Did you meet someone interesting for you, whose thoughts remained in your head?
The great thing was that I had the opportunity to meet the investment director of Rockaway Capital. It's an investment company. We talked a bit, and I was quite pleased that the director, who manages Mall, Heureka, or their investment fund, wanted my business card to meet and talk about the topic I was talking about. That really pleased me. But from other lectures I was interested in a lecture by Anders Hvid at Singular University. This university teaches you to think exponentially. This reasoning on the graph looks like a stick that gradually grows and then suddenly fires to the sky and linear reasoning goes evenly up. And he said that when you think linearly, you improve step by step, there are some kind of stairs. So you won't notice that, for example, a competitor or a technology can completely overtake you or sometimes completely destroy you. And exponential growth is by its nature such, that when you put a
linear and exponential curve on top of one another, it looks like the exponential one is long below the linear one. In practice, this means that you are going in that linear direction and watching and seeing that competitor, but you feel that he is small, uninteresting and that his technology has no future or is very uncertain. You think it's just a small business. Over time, your little competitor will gradually grow. According to the curve, they start as if they are below you, gradually grow and you watch them as if they are still below you, but at one point you two will meet. But – you go further linearly, while they are already soaring. He said such an example that we may not notice the exponential technologies and, secondly, when we notice them, it is too late. At that point of notice, it is the intersection of the two curves, when you notice it there, it is already too late, because you continue only linearly, but they grow so much that they will overtake you several times afterwards.
I'm very interested in this change of thinking. How to start thinking that I'm doing something linearly now and how to do something that I'm going to invest for a long time, but if I project far into the future, it will really be worthy of the time.
How to understand which technologies are going to be here in the future, how to understand where it is going and how to project it not in a linear curve, but rather on an exponential one. How to really find, which currently starting technology will be big in five years.
This is the thought that shakes my head. If I start now, I can be someone in five years, but in ten years, it can be huge. And these are things that are related to some companies today.
Can you give some local specific example?
For example, LinkedIn, networks that had no value in the past, but probably most of their value will come in ten years.
It will be the only professional platform, no one will have a CV, there will be no local job portals, but everyone will be on Linkedin. Maybe not now, but if it goes at this pace, it's very probable in the future. And the other competitors think they are the biggest, that they are growing and that LinkedIn is somewhere below them. I can give you this example, but maybe it won't happen.For example Profesia, will keep looking at LinkedIn as a small competitor for a few years and then will suddenly wake up and maybe at that point it will be too late. LinkedIn will grow so that even painters will be there in a few years. This idea stuck in my head, this exponential reasoning, where I tried to find some practical examples for myself.