Every click on Google is piece of data you can collect. Putting these pieces together and into context has tremendous value. But are you aware of how much does your AdWords data cost? Are you getting out of it as much as you can for your business growth?
Especially big eCommerce companies with 1000s products are spending thousands on clicks per day. They are generating data that over time can become priceless.
Did you know for instance that restructuring your campaigns (moving ad-groups to different campaigns) deletes your conversion history data? #watchout
Within Magic Script bidding algorithms we use statistical data of past 360 days or more to get the maximum possible of your priceless history data. We use this information to overcome seasonality changes and keep your AdWords performance steady and growing!
Well, but what if the data is not available in the campaign's history?
We've started PPC bidding automation for eyewear client Eyerim.com in October 2016. Since then they've expanded into 13 new markets. In other words, they've opened 13 new PPC accounts in 14 months mostly without any historical data.
In order to not burn loads of cash on testing new keywords our technical architect had created an additional algorithm. How it works? To keep ROAS (ROI) targets per market in order and total costs for all accounts under control we bid with target to get the lowest position above the "organic" and more data we gather with more confidence we bid higher towards the top position.
What is your experience with new-KW introduction in your PPC campaigns? How much did that cost you?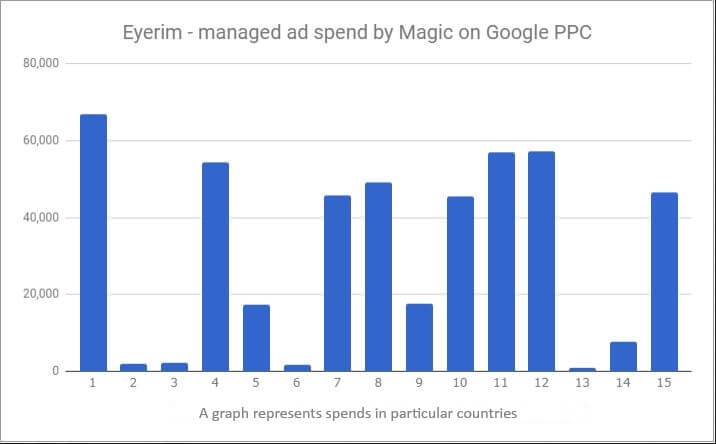 For Eyerim.com we already optimized ad spend of 6-digit figures (Eur), in all their 15 markets.
In the autumn of 2017, we conducted A/B testing between Magic and Google's Smart Bidding. The testing lasted over one month.
Magic brought to the Eyerim +35,9% bigger revenue than the revenue brought by Google Smart bidding. The Cost-per-Revenue rate or ROAS on the side of Magic was 13,6% better!